This idea was started by Lia @ Lost in a Story. I'm excited to give it a go so that my TBR list can be more focused and realistic. I want it to be a to-do list rather than a wish list.
My 'Want to Read' shelf is currently sitting at 78, which is pretty reasonable by some book blogger standards!
Here is how it works:
Go to your Goodreads 'Want to Read' shelf.
Order by ascending date added.
Take the first 5 (or 10 if you're feeling adventurous) books
Read the synopses of the books
Decide: keep it or should it go?
So here I go, 5 steps down the rabbit hole!
Now, I did actually start reading 'Inferno' and 'Tomorrow, When the War Began' way back when (presumably before 2014). What I used to do when I started a book and enough time passed that I couldn't consider it still being a 'current' read I would move it back to my TBR. I don't do that now, now I move things onto a 'paused' shelf. Sometimes you can a book just need a break. Sometimes however they should be moved to the 'abandoned' shelf. After 4 years I would definitely need to start them again as I honestly can barely remember either of them!
Number 78
Book Title: Inferno
Author: Dan Brown
Series: Robert Langdon, Book 4
Genres: Mystery, Adventure
Synopsis
'Seek and ye shall find.'
With these words echoing in his head, eminent Harvard symbologist Robert Langdon awakes in a hospital bed with no recollection of where he is or how he got there. Nor can he explain the origin of the macabre object that is found hidden in his belongings.
A threat to his life will propel him and a young doctor, Sienna Brooks, into a breakneck chase across the city of Florence. Only Langdon's knowledge of hidden passageways and ancient secrets that lie behind its historic facade can save them from the clutches of their unknown pursuers.
With only a few lines from Dante's dark and epic masterpiece, The Inferno, to guide them, they must decipher a sequence of codes buried deep within some of the most celebrated artefacts of the Renaissance – sculptures, paintings, buildings – to find the answers to a puzzle which may, or may not, help them save the world from a terrifying threat…
Set against an extraordinary landscape inspired by one of history's most ominous literary classics, Inferno is Dan Brown's most compelling and thought-provoking novel yet, a breathless race-against-time thriller that will grab you from page one and not let you go until you close the book.
Now this is interesting, when I went to read the synopsis I noticed I had been making notes on my progress as I read:
How helpful of me.
Decision: REMOVE
Number 77
Book Title: Tomorrow, When the War Began
Author: John Marsden
Series: Tomorrow, Book 1
Genres: Young Adult, Dystopia
Synopsis
When Ellie and her friends return from a camping trip in the Australian bush, they find things hideously wrong — their families are gone. Gradually they begin to comprehend that their country has been invaded and everyone in their town has been taken prisoner. As the reality of the situation hits them, they must make a decision — run and hide, give themselves up and be with their families, or fight back.
The synopsis sounds just like my sort of thing and I remember I was really enjoying this (who knows why I stopped). I will go back to it one day (and restart it).
Decision: KEEP
Number 76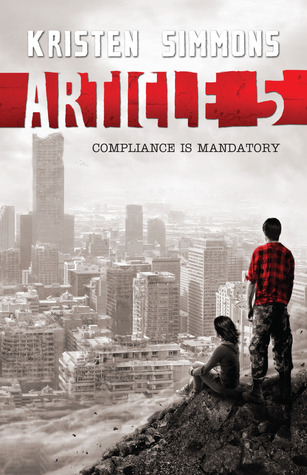 Book Title: Article 5
Author: Kristen Simmons
Series: Article 5, Book 1
Genres: Young Adult, Dystopia
---
Synopsis
New York, Los Angeles, and Washington, D.C., have been abandoned.
The Bill of Rights has been revoked, and replaced with the Moral Statutes.
There are no more police—instead, there are soldiers. There are no more fines for bad behavior—instead, there are arrests, trials, and maybe worse. People who get arrested usually don't come back.
Seventeen-year-old Ember Miller is old enough to remember that things weren't always this way. Living with her rebellious single mother, it's hard for her to forget that people weren't always arrested for reading the wrong books or staying out after dark. It's hard to forget that life in the United States used to be different.
Ember has perfected the art of keeping a low profile. She knows how to get the things she needs, like food stamps and hand-me-down clothes, and how to pass the random home inspections by the military. Her life is as close to peaceful as circumstances allow.
That is, until her mother is arrested for noncompliance with Article 5 of the Moral Statutes. And one of the arresting officers is none other than Chase Jennings—the only boy Ember has ever loved.
Well this sounds right up my alley! And a bit scarily close to home.
Decision: KEEP
Number 75
Book Title: Birthmarked
Author: Caragh M. O'Brien
Series: Birthmarked, Book 1
Genres: Young Adult, Dystopia
Synopsis
In the future, in a world baked dry by the harsh sun, there are those who live inside the walled Enclave and those, like sixteen-year-old Gaia Stone, who live outside. Following in her mother's footsteps Gaia has become a midwife, delivering babies in the world outside the wall and handing a quota over to be "advanced" into the privileged society of the Enclave. Gaia has always believed this is her duty, until the night her mother and father are arrested by the very people they so loyally serve. Now Gaia is forced to question everything she has been taught, but her choice is simple: enter the world of the Enclave to rescue her parents, or die trying.
I am interested by this notion of selected babies being handed over. I am a less convinced by this synopsis than I have been in the others however. I will give it the benefit of the doubt.
Decision: KEEP
Number 74
Book Title: The End of Mr. Y
Author: Scarlett Thomas
Series: N/A
Genres: Fantasy
Synopsis
A cursed book. A missing professor. Some nefarious men in gray suits. And a dreamworld called the Troposphere?
Ariel Manto has a fascination with nineteenth-century scientists–especially Thomas Lumas and The End of Mr. Y, a book no one alive has read. When she mysteriously uncovers a copy at a used bookstore, Ariel is launched into an adventure of science and faith, consciousness and death, space and time, and everything in between.
Seeking answers, Ariel follows in Mr. Y's footsteps: She swallows a tincture, stares into a black dot, and is transported into the Troposphere–a wonderland where she can travel through time and space using the thoughts of others. There she begins to understand all the mysteries surrounding the book, herself, and the universe. Or is it all just a hallucination?
Gut reaction? Nope.
Decision: REMOVE
My 'Want to Read' shelf now has 76 books on it. That's a bit better. I'm not sure how often I will do this, or whether there is a slightly better way of organising things. What I am sure about is I want to keep on reading!
How big is your TBR pile currently?